HOW TO REACH BRIXEN-BRESSANONE

By rail
The best ways to get to Brixen-Bressanone is by train:
The station is only a few minutes walking from the University Campus!
From Germany
The DB/ÖBB EuroCity trains will carry you conveniently and comfortably from Munich to Brixen-Bressanone: these modern trains, operated in partnership by the German and Austrian railways, run along this line 5 times a day. The journey time is approximately 4 hours. There is no need to switch trains at the Brennero (Brenner) Pass and advance booking of trains is not necessary. Trilingual staff members will attend to your needs. Tickets may be booked online or bought at train ticket offices throughout Italy: DB/ÖBB homepage
From Italy
The DB/ÖBB EuroCity trains will carry you conveniently and comfortably from Verona or Bologna (or Venice) to Brixen-Bressanone: The journey time from Verona is 2 hours. From Bologna is 3 hours. Maybe you can choose to travel with Frecciargento train from Rome or Naples to Bolzano and then regional train to Brixen-Bressanone. Trenitalia homepage
From Rome or Naples you can get to Verona with Italo, and from Verona can continue their journey with DB ÖBB EuroCity to Brixen-Bressanone. Italo homepage

By car
We suggest to take the highway A22 or the motorway SS12 – exit "Brixen-Bressanone"
Further useful links if you reach Brixen by car:
Traffic forecast on highway A22
For parking, please follow the electronic indications at the main entrances of the city and take a look at the parking plan.

By air
The nearest international airports are in Innsbruck in the north and Verona in the south. The other airports of Bergamo, Treviso, Venice and Munich are over 200 km away (or four hours travel by rail).
The Verona Airport, due to a special agreement with the Austrian and German railways DB/ÖBB, is operating a shuttlebus service (flight- connection to the train station – ticket to and from South Tyrol). Please find here more information about the service.
FACOLTÀ DI SCIENZE DELLA FORMAZIONE
FACOULTY OF EDUCATION
Viale Ratisbona/Regensburger Allee 16
Italy – 39042, Brixen-Bressanone (BZ)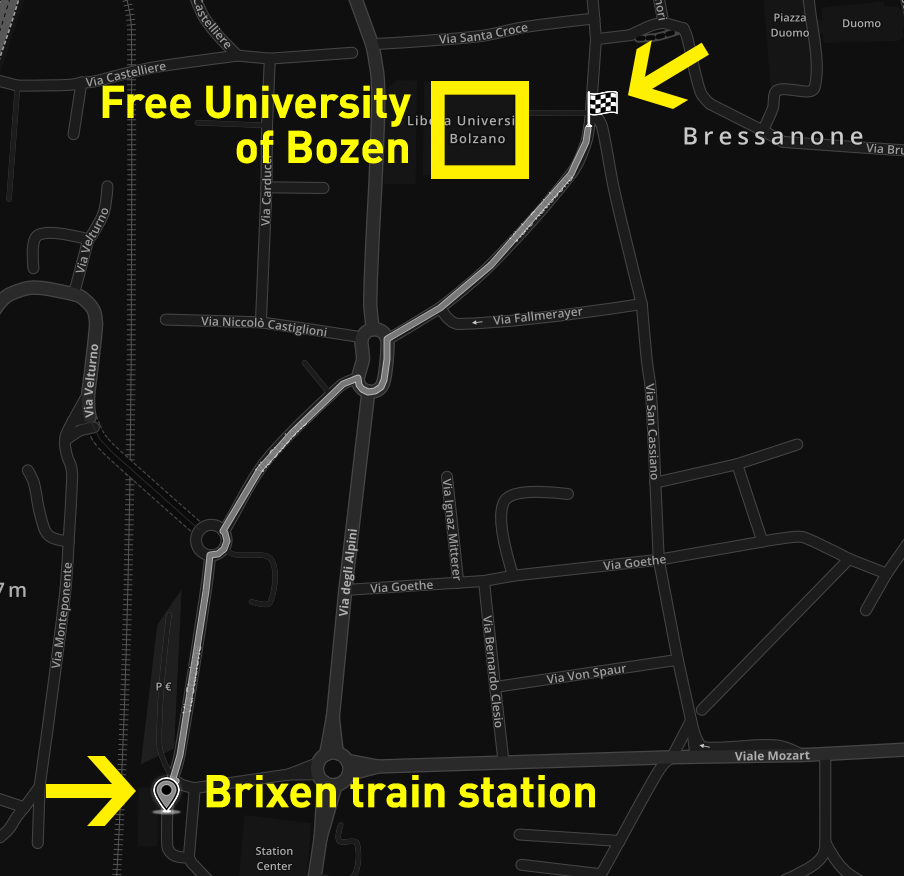 ACCOMODATION
YOUR STAY IN BRIXEN-BRESSANONE
The Free University of Bozen-Bolzano has an agreement with the following hotels :
Hotels
Feel free to book your room in one of these hotels. For further information feel free to contact the tourist office of Brixen – Bressanone.
Please find following some links for bed&breakfast accomodation:
MESSNER MOUNTAIN MUSEUM BY ZAHA HADID
VISIT ON 29.11.2017
Brixen-Bressanone can be on winter a rather cold city, so do not forget to bring appropriate clothing with you, especially mountain wear if you intend to participate at the visit on the Messner Mountain Museum, situated on the summit plateau of Kronplatz (2,275 m).
You may find here the updated weather forecast in the South Tyrol region.
Following you will find some suggestions about what to do in Brixen-Bressanone.
The city hosts its famous Christmas Market, which will open just on the 25th of November 2017. Exploit the situation and come experience this particular atmosphere!
You can also experience Soliman's light show from 23.11.2017 to 07.01.2018 at the Hofburg-Museo Diocesiano.
If you prefer to breath the fresh air of the Plose mountain and exercise you ski, just take a look at this site, just a few kilometers form the